Our
Products
Contact
Us
Mr. Mihir Panchal
Ultra Febtech Pvt Ltd
Plot No: 23, Kaveri Estate,
Phase-IV, B/h New Nirma,
G.I.D.C., Vatva,
Ahmedabad-382445
Gujarat (India)
Ph: +91(79-25842345/25840662)
Mo: +91(9825975116)
info@ultrafebtech.com, ultrafebtech@gmail.com
Dosing Systems
Showing all products from Group Dosing Systems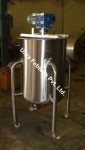 we manufacturer and expoter solution tank of india and world wide trade. solution tank high range material use and supplier in international market.
Inquiry
Details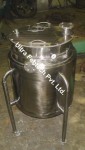 By adopting cutting edge technology, and making use of qualitative raw material, we have come up with a high performing range of reaction tanks. Fabricated in accordance to the market requirements, these reaction tanks are used for handling corrosive chemicals in harsh conditions. These reaction tanks aid automatic and easy control of more than one process at a time.

Designed up to 300 bar pressure with extra safety equipment, these tanks are designed and installed on the basis of type of fluid, nature of fluid, temp.
Inquiry
Details